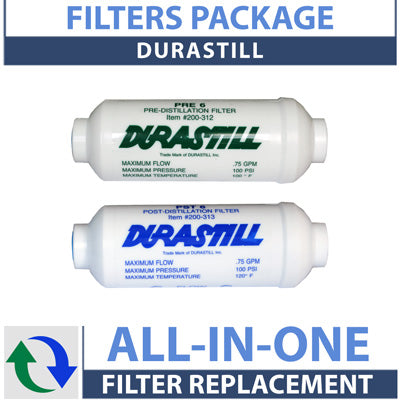 Durastill Filters Package - Durastill Water Filters
Regular price $100.00 $64.00 Sale
Due to Durastill Factory Backorders: Durastill filters will ship in 1-2 weeks from order date.
The Durastill Filters Package saves you money by bundling your Pre-Filter and Post-Filter in one convenient package! If you already have Still Clean and you just need to replace your Durastill water filters then this package is for you.  This is our most popular cleaning package for Durastill Water Distillers because it is the best deal!
What comes in Durastill Water Filters Package?
1 - Durastill Pre-Filter #200312
1 - Durastill Post Filter #200313
Durastill Factory Certified Parts
Made in USA
NSF Certified
All-In-One Durastill Filters Replacement Kit
Bundle and Save Money!
Durastill Filters 

Product Details:
Durastill Filters Package Weight: 2 pounds